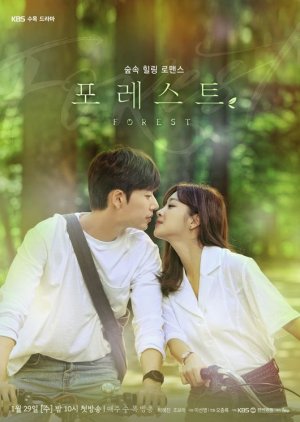 포레스트
durée :
8 semaines de tournage.
épisodes :
32 x 31 minutes
année :
2020
Kang San Hyuk is the CEO of the investment company RLI. He disguises himself as a rescue worker with the 911 special rescue team to find out about a development project of the forest.  
He has memory issues, and cannot remember key details about his childhood and longs to unlock the secrets of his past.
Jung Yeong Jae was a resident of a surgical hospital who wanted to succeed. However, due to an unexpected incident, this ace doctor was sent to a deserted hospital in the middle of nowhere: Miryeong Forest.
"Forest" tells the story of a man who has everything except a heart and a woman who has lost everything except her heart. They have what seems like serendipitous moments, but they meet in a mysterious forest – and the pair feel strangely drawn to one another.
What is the key role the forest plays in their intertwined destinies…
rôles lead :
Jung Young Jae jouée par (LIBRE).
(29)
Kang San Hyuk joué par (moon jaemin).
Oh Bo Mi jouée par (LIBRE).
(30)
Choi Chang joué par (LIBRE).
(31)
Code:

nom prénom (âge du perso l'année de prod. du drama) ▬ veut jouer le rôle de xxx.
---
Messages

:
931
Age

:
17.01.1971 - 52 ans
groupe

:
#sena-stan
rôle dans le groupe

:
ambassadeur de la bonne humeur
occupation

:
vivre sa meilleure vie à la Fashion Week et en tournée asiatique
avatar

:
Park Sung Woong
crédits

:
avatar by ethereal, signa by chaoticrow
DC

:
Min's p(a)lace
Points

:
41
---
---
Messages

:
1189
Age

:
29 ans (04.04.93)
groupe

:
HE:roes
rôle dans le groupe

:
pretty face (mais pas tjrs)
nom de scène

:
ares
occupation

:
acteur, idole
avatar

:
song kang
crédits

:
shellhead
DC

:
every!!
Points

:
51
---